Image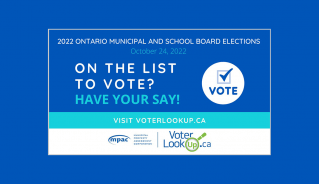 The upcoming year will be a busy one for Ontario voters, with the provincial and municipal elections happening just a few months apart.
Are you on the list to vote in the 2022 municipal election? 
If you are an Ontario resident over the age of 18 you can visit voterlookup.ca to confirm your municipal voting information in a few easy steps. You can also change your school support for electoral purposes and add names to your property address.
Voterlookup.ca is easy to use. To log in, all you need is your property address or assessment roll number and your full name and date of birth. 
To remove a name (e.g., tenant or child moves away) please call the Voter Lookup Contact Centre 1-866-296-6722. This step is important in maintaining an accurate voters list. 
Updating your voter information will help to ensure that our voters lists are accurate as we prepare for the municipal elections occurring this October.