Image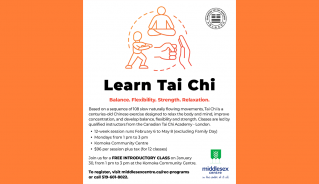 Based on a sequence of 108 slow, naturally flowing movements, Tai Chi is a centuries-old Chinese exercise designed to relax the body and mind, improve concentration, and develop balance, flexibility and strength. Classes are led by qualified instructors from the Canadian Tai Chi Academy - London.  
12-week session runs February 6 to May 8 (excluding Family Day) 
Mondays from 1 pm to 3 pm
$96 per session plus tax (for 12 classes)
Want to learn more? Join us for a FREE INTRODUCTORY CLASS on January 30, from 1 pm to 3 pm at the Komoka Community Centre.