Image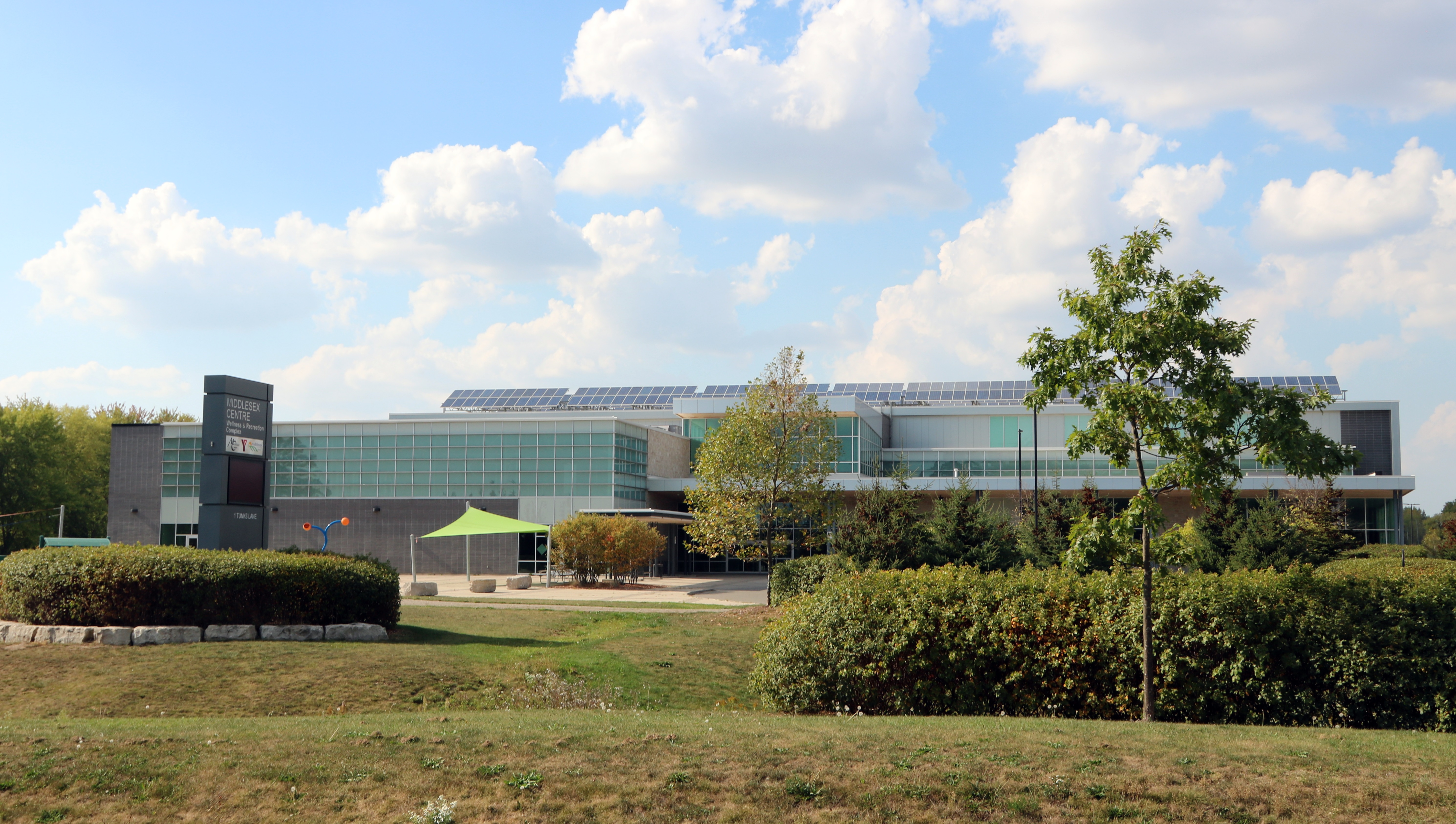 The Komoka Wellness & Recreation Centre opened in 2011.  The facility boasts two NHL-sized ice rinks with nine change rooms.  The facility also contains a fitness centre with an indoor walking track and a large gymnasium (operated by the YMCA of Southwestern Ontario), a library (operated by the County of Middlesex), and a number of activity and multi-purpose rooms.
The Wellness Centre integrates many sustainability and accessibility design features. The facility is Green Globes certified (an assessment protocol, rating system and guidance for green building design, operation and management). The Wellness Centre has received Rick Hansen Foundation Accessibility CertificationTM, which is awarded to facilities that go beyond the building code, providing accessibility features for people with varying disabilities that affect mobility, vision and hearing.
Hours of Operations
---
Note: The Wellness Centre may be open earlier or later to accommodate ice rentals. Please check with the Customer Service Desk.
facility Hours
Monday to Sunday: 6 am - 12 am (midnight)
Customer Service (Booking) Desk Hours
Monday to Thursday: 8 am - 7 pm
Friday: 8 am - 6 pm
Saturday and Sunday: 10 am - 3 pm
YMCA (Fitness Centre) Hours
Please visit the YMCA of Southwestern Ontario website for current hours of operation. Note YMCA hours may differ from facility hours.
The Community Walking Track at the Wellness Centre is open to non-YMCA-members free of charge Monday to Friday from 11 am to 1 pm. Please contact the YMCA at 519-601-7033 to book your spot.
Features/Amenities
---
Ice Availability, Rentals & Recreational Skating
---
See our Book a Facility page for ice rental availability and information.
See our Recreational Skating page for Public Skating and Shinny dates, times and prices.
Arena Advertising
---
Get your business noticed! Advertise at your local arena.
Check out our Arena Advertising Flyer for more details.
---
Assumption of Risk: By visiting any parks and publicly accessible spaces you voluntarily assume all risks, including any risk of injury, loss, damage and possible exposure to a communicable disease such as COVID-19. 
Facility Rental Information
Komoka Wellness Centre Customer Service Desk: 519-601-8022 or via email
Address
1 Tunks Lane
Komoka ON N0L 1R0
Canada