Image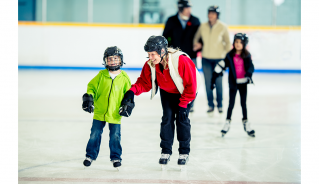 Recreational Skating
Public skating and pick-up hockey are offered at the Komoka Wellness Centre (year-round) and Ilderton Arena (fall and winter). 
Please see below or print the current recreational skating schedule flyer for available dates, times and prices. Note that the schedule changes seasonally, and may be adjusted for holidays.
Recreational Skating Schedule
Summer 2022 - July & August
Recreational Skating Schedule
Fall 2022
Komoka - Sept 1 to Dec 23
Ilderton - Oct 4 to Dec 23 
 
Holiday Closures & Cancelled Recreational Skating Times - Fall 2022

The Komoka Wellness Centre is Labour Day (Sept 5), National Truth and Reconciliation Day (Sept 30) and Thanksgiving (Oct 10).
All recreational skating and shinny is cancelled at the Komoka Wellness Centre on Sept 3, Oct 14, Oct 15, and Oct 22.
Ilderton Arena is closed on Thanksgiving (Oct 10).

Frequent Skater Discount Cards

Frequent skater?

We offer a discounted rate if you purchase a multiple skate "punch card" in advance. 

20 Senior Skates = $45
20 Child or Adult Skates = $63

Valid for public skating only; not valid for shinny. Rates subject to change.

Public Skating Rules

Please observe the following safety rules for the enjoyment of all skaters.

Everyone on the ice surface must wear a CSA-approved helmet.
All participants must wear skates while on the ice surface.
Those without skates will not be permitted on the ice surface.
Chairs, sleds, strollers, pylons and other obstructions are not permitted on the ice surface.
Skate guards must be worn in unmatted areas throughout the facility.
Food and drinks are not permitted on the ice surface.
Games such as tag or racing will not be permitted.
Refrain from carrying children on shoulders or in arms while skating.
The use of hockey sticks is not permitted during public skating sessions.
Refrain from throwing snow or ice.
Skate at a sensible speed, adhere to the directions of the arena staff members, and reports all accidents or injuries to the arena staff members on duty.
Skating backwards is not permitted during public skates. Wearing hockey equipment on the ice is not permitted during public skates.
Power skating or figure skating is not permitted during public skate sessions.
Wheelchairs are permitted on the ice providing that the operator of the wheelchair is wearing ice skates. Please keep the wheelchair next to the boards away from skating traffic.
Booking Ice Time
If you are looking to book ice time for a sport overseen by a recognized provincial or national sport organization, please visit our Book a Facility page.
Looking for Other Recreation Programs?
Please see our Recreation Programs page for fitness and other recreation programs in Middlesex Centre.
---
Assumption of Risk: By visiting any parks and publicly accessible spaces you voluntarily assume all risks, including any risk of injury, loss, damage and possible exposure to a communicable disease such as COVID-19. 
For Questions Contact:
Job Title
Customer Service Coordinator
Department
Community Services
Job Title
Customer Service/Recreation Program Assistant
Department
Community Services