Image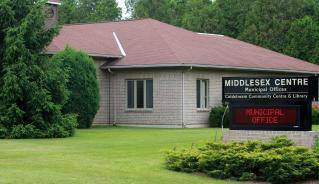 Middlesex Centre Municipal Council
---
Municipality of Middlesex Centre is governed by a 7 member elected Council
Mayor (elected at large)
Deputy Mayor (elected at large)
5 Ward Councillors (one elected per ward)
Meetings of Council
---
Meetings of Municipal Council are generally held at the municipal office (10227 Ilderton Road) on:
First Wednesday of the month at 9:30 am
Third Wednesday of the month at 6:00 pm
Council also sits for Committee of Adjustment (Minor Variances), and Planning Committee on the third Wednesday of the month at 7:00 pm
Special meetings may be added in regularly scheduled meetings. Public notice is given for any special meetings. 
Meetings are broadcast live on the Middlesex Centre YouTube channel.
Please see the Council Meetings page for more information, including specific meeting dates and times.
Municipal Council Contact Information
---
Note - If you are submitting correspondence to Council or Committees, your name may be included on the agenda and published on the municipal website. Your name and address may be included in meeting agenda/minutes if necessary to identify the issue to be considered by Council.
| Council Position | Name | Contact |   |
| --- | --- | --- | --- |
| Mayor | Aina DeViet | 519-666-0190 ext. 5234  | |
| Deputy Mayor | John Brennan | | |
| Councillor Ward 1 | Debbie Heffernan | | |
| Councillor Ward 2 | Wayne Shipley | | |
| Councillor Ward 3 | Hugh Aerts | | |
| Councillor Ward 4 | Sue Cates | | |
| Councillor Ward 5 | Frank Berze | |   |
Municipal Ward Map
---
For Questions Contact:
Job Title
General Inquiries: Council Meetings, Commissioner of Oaths, Lottery, Marriage
Department
Clerk Services
Job Title
Municipal Clerk
Department
Clerk Services