Image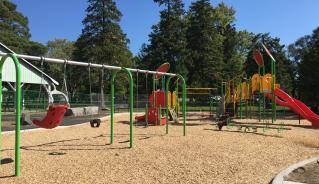 Community Services oversees the operation and management of parks, open spaces, and recreation facilities such as arenas, libraries and community centres. It also supports local sports and special events.
Community Services maintains and is responsible for:
3 ice surfaces between 2 arenas
5 indoor community centres
19 parks, featuring 20 soccer fields, 15 ball diamonds, 16 tennis courts, 4 basketball courts, 13 playgrounds, 3 splash pads, 2 skate parks, 6 outdoor park pavilions, and 2 off-leash dog areas
78 hectares of parkland
6.4 km of trails
 
Play it Forward
The "Play it Forward" subsidy program assists families from Middlesex Centre whose financial situation limits their child's ability to participate in community recreation programs (basketball, hockey and soccer).  Up to 35% of the recreational program registration cost may be covered.
The program is offered with support from the Middlesex Dairy Producers.
 
Fee Waiver Requests
Middlesex Centre recognizes the importance of assisting community organizations and groups with affordable facilities during special events. As such, groups may apply for a fee waiver or fee reduction for use of any municipal community centre hall, kitchen and/or meeting room. Please see the fee waiver/reduction policy for further details.

Related Reports
Middlesex Centre Alcohol Policy
For copies of the following reports and studies, please contact Scott Mairs, Director of Community Services.
Community Services Master Plan (May 2012) 
Master Trails Plan (2014)
Ilderton Arena Renovation Study (2015)
Ilderton Indoor Recreation Facility Study (2017)
For Questions Contact:
Job Title
Director of Community Services
Department
Community Services