Image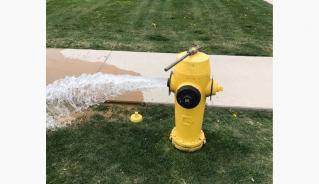 Middlesex Centre's Water & Wastewater Department will be performing fire hydrant flow testing in Komoka and Kilworth between May 16 and May 19, 2022. Flushing will take place normally between the hours of 8am and 3pm, Monday to Thursday.  
Flushing will begin on Komoka Road and Union Avenue and continue through town to Glendon Drive.
Fire hydrant testing is completed to ensure hydrants are operating properly and can be used in the event of a fire or other emergency requiring water. Because the testing involves the increased flow of water from fire hydrants, some residents may notice discolored water during the testing.
Please keep the following in mind:
The flushing and testing of each hydrant takes about 15 minutes.
During testing customers may notice large quantities of water in the street or ditches. 
There may be a slight pressure drop, air in the water pipes, and some temporary discoloration or sediment in your water. To counter these effects it is recommended to limit your water use when a hydrant in your immediate vicinity is being tested, and then run water from a tap in the lowest point of your property for a short period of time to flush out any loosened sediment.
Should you have any additional questions feel free to contact Public Works and Engineering.