Image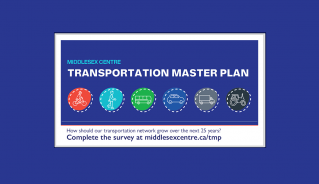 Middlesex Centre is developing a new Transportation Master Plan (TMP). This plan will guide policies and infrastructure initiatives for the municipality's transportation system over the next 25 years.
As part of that plan we are looking to get your thoughts through a brief survey.  The survey will be open from January 11 to February 12, 2023.
Public Opinion Survey 
How should our transportation network of roads, sidewalks, trails, rails, etc. develop over the next 25 years? What are the issues we can expect to face, and what are the opportunities that might arise? Help us create the Transportation Master Plan by completing a short survey. 
Public Map
Do you have specific issues or areas of concern? Share those with us using the Transportation Master Plan online map.