Image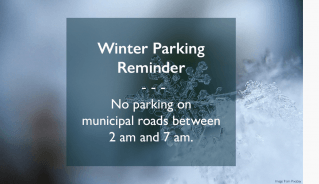 Please remember there is no parking on municipal roads between 2:00 am and 7:00 am between Labour Day and Victoria Day.
While this is particularly important in the winter to allow for snow clearing, this restriction applies at all times, even when there is no snow.
Also, don't forget to bring in your basketball and hockey nets from the edge of road and out of the way of snow plows. If you live on a rural road, check that your mailbox is securely attached to its post.