Image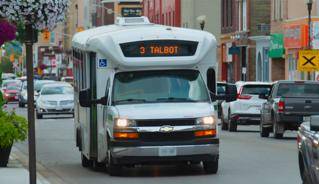 A new, fully accessible Inter-Community Transit service will connect residents of Middlesex Centre to Strathroy, Sarnia and London starting August 4, 2020.
About the Service

The Intercity Transit Service is a partnership between the Municipality of Strathroy-Caradoc, the City of Sarnia, and the City of London.

Voyago is the service provider for the inter-city transit project. 

 

Routes & Stops

Route Map

For more information, visit the link below for an interactive map with route, schedule and stops. (Clicking on the bus icons on the map will give you stop locations and times.)

 

Stops in Middlesex Centre

In Middlesex Centre, the transit bus stops at the Komoka Wellness Centre.

You may park your car for free at the Wellness Centre if you are using the intercity transit, however please note there is no overnight parking.

 

Schedule

Monday to Friday - 3 Round Trips Daily
Saturday and Sunday - 2 Round Trips Daily

Please see the Intercity Transit Brochure for details.

 

Ticket Price & Purchasing

Price

Please see the Intercity Transit Brochure for pricing details.

 

Purchasing Tickets

Passengers who wish to board buses without purchasing tickets in advance may not be able to ride due to seat availability. There is no guaranteed seating without pre-booking.

Step 1: Call 519-787-1055 to reserve a seat for the day, time, pick-up & destination of your trip.

Step 2: Voyago will e-mail a confirmation and add your name to a daily manifest.

Step 3: Be at the bus stop 5 minutes before the scheduled pick-up time.

Step 4: Give the driver your name and pay the EXACT fare price. CASH only.

Step 5: Enjoy your trip!

 
Note that routes, schedule and ticket prices are subject to change. 
If you have any questions, please contact Voyago at 519-787-1055.